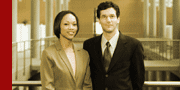 Program Manager
Education – Professional Degree in Hardware, Associates Degree in Computer Management Systems. Pursuing Bachelors Degree.
12 years of experience.
Certification – A+ Certification, Cert Financial Statements, Cert in Computer Maintenance, Cert in Network Security, Cert Retail Management.
Service – 4 years.
Has served one year in present position.
Steve Puffer was promoted to Section Leader by NewTec in October, 2000. In this role, he supervises both DST, and NewTec employees. Steve is responsible for all LAN and Help Desk operations. His team has 450 users, and in excess of 2000 computers that they maintain. In addition, Steve is responsible for all ADPE approvals for government and contractor purchases.

Steve's team has been rated well above the national average for response time and diagnoses regarding computer-related problems. As a valuable team member, NewTec considers Steve, and those under his management, as being the best in the field. Under his management, LAN operations have only experienced 8 hours of down time in the past four years – down time that was the result of a fiber optics cable being cut by a tractor.