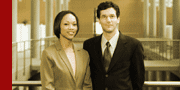 Program Manager

Chuck serves as the Program Manager for a variety of Information Technology projects at the Defense Logistic Agency, Ft Belvoir, VA. He provides critical support to the Defense National Stockpile Center organization, where he serves as the "Champion" for all technical, operational, business and training requirements in support of the Defense Working Capital Accounting Fund System mission critical web based application.

Chuck joined DST in 2002 with over 25 years of acquisition, contracting, budget, management and leadership experience, combined with powerful coaching and presentation skills. He is an acquisition and contracting professional with expert knowledge of Federal, DoD, and NRO acquisition regulations and policies. He is a graduate of the DoD Program Management Course and he is a Certified Professional Contracts Manager.

Chuck graduated with an MBA from Southern Illinois University — Edwardsville and an a BS in Business Administration from North Carolina A&T; State University.